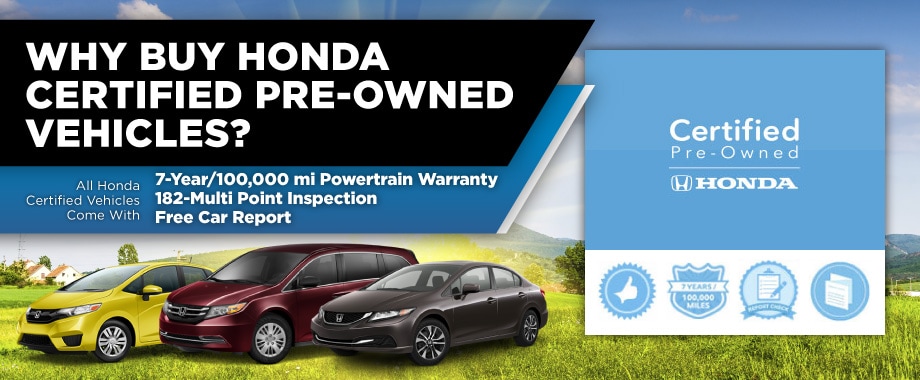 Why a Certified Pre-Owned Honda Is Right for You!
When you're shopping for a vehicle, you have a lot of options, and often you have to marry what your budget can accommodate with what  you truly want. However, when you buy a Certified Pre-Owned Honda, you get the  best of both worlds: the peace of mind, warranty coverage and guaranteed quality of a new vehicle, plus the more affordable price of a used one. In  addition, you'll always get a car that is less than six years old and has fewer than 80,000 miles on it, along with a free vehicle-history report that details the car's history and clears it of any serious damage due to events such as floods or fires.
The best thing about every CPO Honda? The extensive inspection it must undergo before being put up for sale. Every CPO Honda is  subjected to an intensive 182-point inspection that examines all of its major systems as well as its physical appearance. If any single component is not up  to snuff, it is expertly reconditioning, and if reconditioning is not possible  it is replaced by a top-quality genuine OEM Honda part. Because of the great care that is put into each CPO Honda, we are able to offer a warranty that covers the engine and transmission for as much as 7 years and 100,000 miles!
Here are even more perks of buying a CPO Honda vehicle:     
If you purchase a CPO Honda vehicle with a satellite-compatible radio, you get a 90-day free trial of Sirius.
     
CPO vehicles from our dealership qualify for Honda Care® Certified Additional Coverage plans, which include benefits such as  roadside assistance and rental vehicle reimbursement.
     
Honda has a reputation for reliability, and when you buy a CPO Honda you know you're getting a vehicle that will be there through thick and thin!
To test-drive a wonderful Certified Pre-Owned Honda for yourself, visit our Honda dealership near Framingham, MA, today.