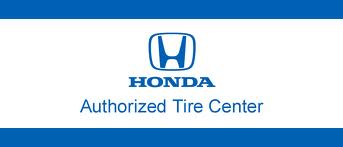 Bernardi Honda is the largest volume Honda Authorized Tire Center in the Northeast.  We have direct access to the tire manufacturers and provide competitive pricing on factory replacement tires and Honda recommended alternatives.  Our certified technicians use state of the art tire mounting, balancing and wheel alignment equipment that allow us to offer full service tire and wheel replacement, including PAX run-flat and low-profile tires.  We maintain a full stock of Michelin, Bridgestone, Continental, Yokohama, Goodyear and other tire makes.  All tires we sell meet the strict guidelines set by Honda to provide ride and handling that matches your original tires.
As a Honda Authorized Tire Center,
all of our replacement tires come with a nationwide 12 month, unlimited mile Roadside Hazard Warranty.

Tires are one of the most ignored and underrated components of your vehicle. They provide the only interface between your Honda and the road surface to provide traction when accelerating, steering and stopping. Bernardi Honda knows your vehicle like no one else.  We can ensure your Honda is equipped with the optimum tire for your specific driving needs.
TIRES CAN INCREASE YOUR FUEL ECONOMY
Decreasing a tire's rolling resistance or friction with the road surface will decrease the amount of work required by the engine and therefore the amount of fuel it burns.
Tire Pressure 
Under-inflation increases a tire's rolling resistance. Do NOT wait until your tires look low on air, or for the TPMS (tire pressure monitoring system) light to warn you that your Honda's tire pressures are low. Tires that are 8 PSI low can cause increased fuel consumption by 4%.  By keeping your tires at proper inflation pressures, you are effectively saving considerable amounts of gasoline.
Wheel Alignment
Wheels out of alignment increase tire to road resistance, which requires extra engine effort and increases fuel consumption.  The increase in engine load can increase fuel consumption by up to 25%. For more information on this subject, please visit our Wheel Alignment page.
Tread Depth
Tires manufactured for sale in the U.S. have wear indicators (or "wear bars") molded into the tire tread at 2/32" depth. This is the minimum legal depth permitted for use on public roads in Massachusetts. When tire tread is worn until level with the wear indicators in two or more adjacent tread grooves, the tire is considered illegal for further use and must be replaced. Some all-season tires have a second set of wear indicators at 4/32" tread depth. At this depth, an all-season tire is no longer considered suitable for use in snow and can also cause hydroplaning in severe wet conditions. Snow tires may have a second wear indicator at 6/32" that indicates when the tires are no longer recommended for use in snow.
BERNARDI HONDA OFFERS FREE TIRE INSPECTIONS

NO APPOINTMENT REQUIRED
Let our Honda Certified technicians evaluate your vehicle's tire wear and condition.  We will make recommendations to keep your car handling safely and reliably.